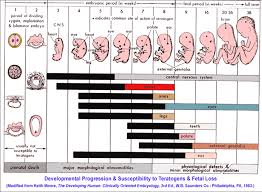 This biologic agent lacks the antibody Fc- region responsible for placental transfer of immunoglobulins.A recent analysis of the manufacturer's pharmacovigilance database, representing the largest available cohort of exposed pregnant women (including over 300 women with rheumatic diseases and nearly 200 with Crohn disease), identified over 530 prospectively documented outcomes of maternal exposure.
Over 80 percent of pregnancies had exposures in the first trimester, the major period for organogenesis. There was no increase in teratogenicity or fetal death in CZP-exposed pregnancies compared with the general population, further supporting the relative safety of CZP use during pregnancy.
Source: Pregnancy Outcomes After Exposure to Certolizumab Pegol: Updated Results From a Pharmacovigilance Safety Database.AUClowse MEB, Scheuerle AE, Chambers C, Afzali A, Kimball AB, Cush JJ, Cooney M, Shaughnessy L, Vanderkelen M, Förger F SOArthritis Rheumatol. 2018;70(9):1399. Epub 2018 Jul 22.