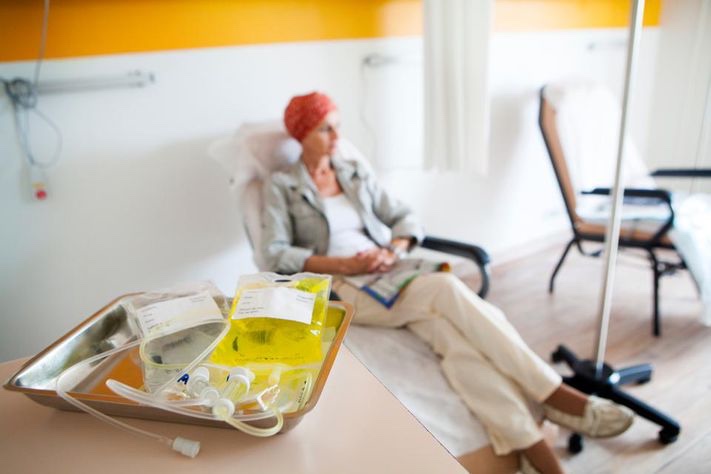 A new clinical trial conducted in patients in the U.S., U.K., and Canada has shown that the addition of a targeted therapy drug to existing hormone treatment, greatly slows cancer cell growth in women with early-stage breast cancer.
"We have demonstrated that the current standard of care for many women – hormone treatment – is effective at stopping the growth of tumor cells prior to surgery, however with the addition of this new drug palbociclib patients may benefit even further," said Stephen Johnston, Medical Oncologist, Chief Investigator of the study and Professor of Breast Cancer Medicine at The Institute of Cancer Research in London, U.K.
The drug, palbociclib, also known as IBRANCEin the U.S., has already shown good results in women with advanced breast cancer, but this trial showed that it also works well to stop tumor growth for women who are newly diagnosed. The trial was done on 397 postmenopausal women with hormone receptor-positive breast cancer, which had not begun to spread and who had not yet undergone surgery to remove their tumor. The results were presented today at the San Antonio Breast Cancer Symposium in Texas and also published in the Journal of Clinical Oncology. The clinical trial added palbociclib to the treatment regimen of women with early-stage breast cancer, which already involved hormone treatment and compared the tumors of these women with those who had the hormone treatment alone. The study found that although around the same number of women experienced shrinkage of their tumors with either treatment protocol, those who took palbociclib in addition to the hormone therapy were more likely to see their tumor growth cease entirely; 9 out of 10 women, compared to 6 out of 10 women who only had the hormone therapy.
"Patients with breast cancer often respond to various drug treatments, only for the cancer cells to adapt, change or sidestep the initial beneficial effect," said Johnston.
Hormone therapy is an effective treatment for women who have hormone receptor-positive breast cancer, around 80% of all breast cancers, but the cancer cells can become resistant to treatment and tumors can return. Treating patients simultaneously which target different vulnerabilities on the cancer cells, makes this less likely to happen. The next step for this research is to figure out whether palbociclib plus hormone therapy might also delay breast cancer coming back after surgical removal of tumors.
"We are hopeful, based on the results of this large trial, that combining this targeted therapy with hormone treatment may help to delay or even stop cancer coming back. This will require further research to confirm, however, these results are a vital step forward tackling one of the major challenges that we encounter with breast cancer," said Johnston.
Source: Forbes